Often in the surgery suite at SNYP, so much more happens than simple spay/neuter surgeries. Some animals come to us with complications or surprises — and SNYP's veterinarians always do what needs to be done for the sake of the animals' health, even when it means going above and beyond. Here are a few of these stories…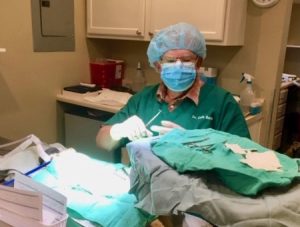 Kitty Miranda* came to SNYP for spay surgery, and during her exam it became clear there was something "extra" inside her abdomen. Another veterinarian was called in to assist, and he discovered a life-threatening abnormality associated with one of Miranda's kidneys. Because the situation would certainly have been fatal had the kidney not been removed, the vets performed the necessary operation, at no extra cost to the low-income family. Miranda is now recovering at home.
Another cat, Freddy, had been left locked inside a house after the tenants moved and was taken in by a neighbor who brought him to SNYP for neutering. With a nasty abscess on his neck, Freddy looked as if he'd been around the block (or alley) a time or two. When he didn't recover readily after surgery, the SNYP veterinary staff gave him a closer exam, which revealed that Freddy appeared jaundiced and had symptoms pointing toward liver complications, which will be treated by his regular veterinarian.
And then there was Jake — a skinny, scruffy teenage cat with an attitude. When Jake arrived at SNYP, he was not only missing an eye, he also appeared to be missing a testicle. In order to neuter Jake, extensive surgery was required to locate and remove the non-descended testicle. The extra time and care he needed was rewarded when his rescuer reported that Jake recovered quickly and completely once he got back home.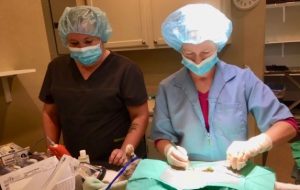 These happy endings are possible thanks to SNYP's dedicated veterinarians and staff, who always take the time to do what is needed for the animals while they are under anesthesia. And because many SNYP patients are community cats or from low-income clients, the clinic cannot recover any of the significant additional costs associated with providing these necessary treatments. While this will never stop the clinic from doing what needs to be done, a little help from our friends goes a long way!
When you donate to SNYP, you not only support our programs for community/feral cats and low-income clients, but you help cover the costs associated with the surgeries like these that require extra time, medicines, and supplies.
Thanks for being a friend of SNYP!
* All cats' names have been changed