Even though access to spay/neuter services has been disrupted due to the pandemic, there are still things all of us can do to help animals until veterinarians and clinics can fully reopen again.
Be a good neighbor
The shortage of spay/neuter and shelter services makes overpopulation and the tragedy of unwanted litters all the more evident and obvious to the community during this time. But there are a few things you can doin your neighborhood to help prevent the suffering of animals.
— If someone is moving away from your neighborhood, ask them if they are taking their pets. Abandonment is a crime, and while many shelters and rescues are unable to take in as many animals as usual at this time, there are still options. If your neighbors are unable to take their pets with them, find out how you can help prevent an animal ending up on the streets, whether calling around to shelters or offering to foster until a space becomes available at a shelter.
— If you have neighbors with free-roaming cats, ask if they've been fixed. Any outdoor roaming cat (or dog) should be fixed, or kept strictly indoors. (Remember that kittens begin breeding at only 16 weeks of age!) Encourage your neighbors to keep all unaltered pets indoors until they can visit a clinic or veterinarian.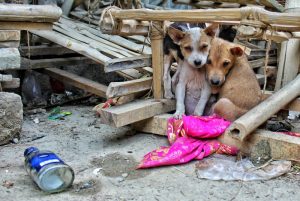 Become a foster family
With limited staff and volunteers currently working at shelters, fostering an animal is a great way to help ease the burden on short-staffed shelters. It's also a wonderful way to help socialize animals to help them become more adoptable.
— Contact local shelters and ask about their foster program. They will give you all the support and supplies you need, whether it's caring for a litter of kittens or giving a dog a break from the stress of life in a kennel. Also, by helping to free up space in a shelter, the shelter will be better able to help take in animals who are strays or owner surrenders.
— Take in stray or feral cats from your community, if you can. Stray cats live short, difficult lives, but if they are friendly and adoptable, you can bring them in and either make them part of your home, rehome them, or take them to the shelter for a chance at a better life. And if you see unowned kittens, bring them inside if you possibly can. Feral kittens can be tamed and made adoptable if they are caught and handled by the time they are 8 to 10 weeks old. And don't forget that their mom needs to be fixed; if she's not friendly and catchable, keep track of her and call the SNYP clinic when it reopens to find out how to trap her and get her spayed.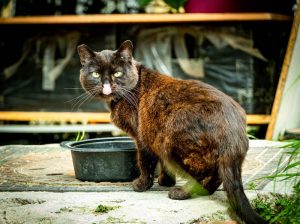 Take care of ferals
The most important thing to do for feral cats is to get them fixed — and this begins with feeding them and building trust. Feed feral cats at the same time of day every day, with same bowl in the same place. Make a food noise to call them that they will learn to associate with dinner time. With repetition and consistency, soon they will be waiting for you on time every day — and this is step one to trapping the kitties for spay/neuter, the most important thing you can possibly do for them. If you start now, you'll be ready to call SNYP when the clinic opens and learn how to trap them to get them fixed.
Thank you for all you do for the cats and dogs in our community!