While we've already announced the exciting news about receiving a lifesaving Petco Foundation grant, yesterday was a special day because we got the chance to meet local Petco employees and receive our larger-than-life check.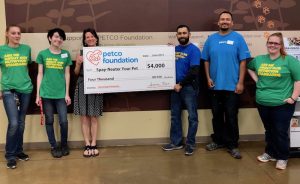 We are so grateful to the Petco Foundation for this grant, which helps us provide financial assistance to low-income clients, ensuring that even those who may not otherwise be able to afford spay/neuter surgery for their pets have the opportunity to prevent unplanned litters.
"Our mission has always been to assist underserved populations of people and animals who are most in need, and this grant from the Petco Foundation will help us be able to do just that — especially right now, when the demand is highest during kitten season," said SNYP Board President Sally Mackler.
Learn more at SNYP and at Petco Foundation.