We are delighted to announce that on Monday, May 13, from 6:30 to 7:30 p.m. in the Ashland Public Library's Gresham Room, SNYP Clinic veterinarian Dr. Mike Maynard will present "Getting SNYP'd in Southern Oregon: An inside look at the first high-volume, high-quality spay/neuter clinic in Southern Oregon." The event is free and open to all.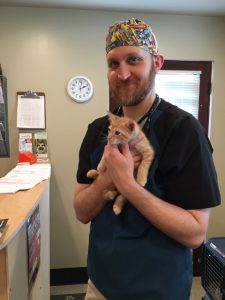 In his presentation, Dr. Maynard will provide an overview of the challenges in addressing dog and cat overpopulation, discuss why spay/neuter is a vital part of the solution, and offer a glimpse into a typical day at the very busy SNYP clinic. So far, the SNYP clinic has performed more than 579 surgeries, including 492 cat spays and neuters (more than 169 of which were for feral cats), and 87 dog surgeries.
"I'm most happy in the surgery suite," said Dr. Maynard. "There is great appeal in operating a clinic that is focused solely on spay/neuter surgery, as it allows us to dedicate our time to providing just a few services to the highest of our abilities."
We hope to see you there — and please feel free to share this news with anyone who may be interested in attending!