We are delighted to announce that the SNYP Spay/Neuter Clinic has been awarded a $4,000 grant from the Petco Foundation to support its low-income spay/neuter program. This Petco Foundation investment will help the clinic provide spay/neuter surgeries for dogs and cats of low-income residents in Jackson, Josephine, and neighboring counties.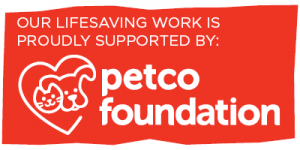 "Our mission has always been to assist underserved populations of people and animals who are most in need, and this grant from the Petco Foundation will help us be able to do just that — especially right now, when the demand is highest during kitten season," said SNYP Board President Sally Mackler.
Since opening in February, the SNYP clinic has performed more than 579 surgeries, including 492 cat spays and neuters and 87 dog surgeries.
For more information about the SNYP Clinic, visit www.SpayNeuter.org. For more on the Petco Foundation, visit www.petcofoundation.org and join the conversation on Facebook, Twitter and Instagram by using the hashtag #PetcoFamily.
About the SNYP Clinic
Spay/Neuter Your Pet is committed to providing affordable spay/neuter services to the communities of southern Oregon and northern California to reduce the tragedy of pet overpopulation through prevention. The clinic's mission is to: provide affordable spay/neuter services to the public with special attention to providing assistance to the underserved population; support the needs of community cats and their caregivers; reinforce southern Oregon and northern California shelters' efforts to spay/neuter pets before adoption; educate the community on the importance of spay/neutering their pets.
About the Petco Foundation
At the Petco Foundation, we believe that every animal deserves to live its best life. Since 1999, we've invested more than $250 million in lifesaving animal welfare work to make that happen. With our more than 4,000 animal welfare partners, we inspire and empower communities to make a difference by investing in adoption and medical care programs, spay and neuter services, pet cancer research, service and therapy animals, and numerous other lifesaving initiatives. Through our Think Adoption First program, we partner with Petco stores and animal welfare organizations across the country to increase pet adoptions. So far, we've helped more than six million pets find their new loving families, and we're just getting started. Visit petcofoundation.org to learn more about how you can get involved.