The Willamette Animal Guild (WAG), which has spayed/neutered nearly 60,000 animals since opening in 2008, is leading an initiative to help make spay/neuter services available to more animals throughout the state with an "Oregon Loves Its Pets" specialty license plate.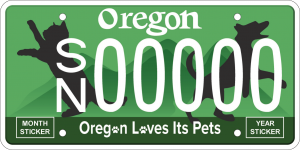 The proceeds from these license plates will benefit WAG's "Spay It Forward" program, which provides low-income subsidies, and will also eventually go into a "Spay It Forward Oregon" fund, which will be used to make grants available to other Oregon organizations (like SNYP) supporting low-cost spay/neuter.
But first: WAG needs to sell 3,000 vouchers before these license plates can go into production. Help Oregon join 34 other U.S. states that already have low-cost spay/neuter license plates. WAG's spay/neuter plates are available for preorder now — click here for more information, FAQs, and to order yours!