The Mail Tribune has published a wonderful story by Vickie Aldous about all the latest at SNYP, including its 2,000+ surgeries and its 500 feral cat spays and neuters. Serving the feral community is one of SNYP's main missions, and as Sally Mackler pointed out, when feral cats aren't fixed, the results are tragic. "Many of the kittens don't survive. And our mission here really is to minimize suffering. The largest source of suffering in domesticated companion animals is overpopulation. It's sad, but it's totally preventable."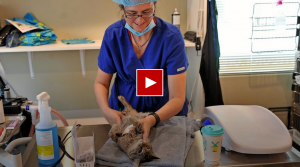 The SNYP Clinic is open Tuesday through Friday; click here to learn how to schedule an appointment.
And, if you'd like to support SNYP, there are two upcoming events: our No-Party Fundraiser, for which you can buy a seat or a table without having to dress up and go out. Click here to "attend."
And please join us at ScienceWorks for Giving Tuesday, sponsored by the Rogue Valley Messenger. SNYP will be among the 20 nonprofits featured at this festive occasion on Tuesday, December 3, from 5 to 8 p.m. It's a wonderful chance to have a glass of wine and learn more about SNYP and other nonprofits in the valley. This event is free, and all are welcome. Beer and wine will be provided.