We are delighted to be taking part in the Rogue Valley Messenger's 2019 Giving Tuesday event on Tuesday, December 3, from 5 to 8 p.m. at ScienceWorks in Ashland. This event is free, and all are welcome…ScienceWorks will provide food, drinks, and music!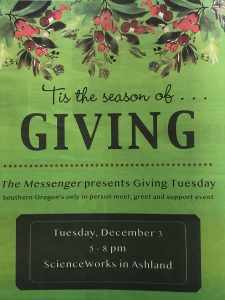 This festive event gives all those in the Rogue Valley the chance to visit with local nonprofits and to see all the great work being done in our region.
We are looking forward to seeing SNYP friends at this event, as well as introducing SNYP to those who may not know what we do.
Please join us in spreading the word, and we hope to see you there! And, of course, if you can't make it but would still like to support SNYP's mission of preventing the suffering caused by overpopulation by providing services to all who need them, click here to donate.