The SNYP Clinic opened a year ago this month to provide low-cost spay/neuter services to clients in Southern Oregon and Northern California — from shelter animals to owned pets to feral cats. We are celebrating a lot of good work done — and more good work still to come — with huge thanks to our staff, volunteers, and supporters.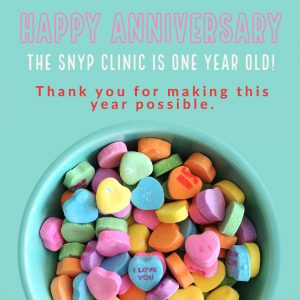 As the first stand-alone, low-cost spay/neuter clinic in Southern Oregon, SNYP provides services that for many pet owners wouldn't be possible. With surgeries at SNYP costing about 40% less than at private veterinary practices, the SNYP Clinic offers options to those who may otherwise not be able to fix their pets (and, for those who need even more financial assistance, subsidies are available).
The SNYP clinic is now open four days a week, with several dedicated veterinarians and a wonderful staff. With nearly 3,000 surgeries performed already in our first year, we are working on expanding our hours and availability in 2020 — so stay tuned!
In the meantime, click here to donate, click here for our clinic wish list, and click here for appointments.
Thank you for your support of SNYP!