Thank you Debbie and Wanda for making a mountain of feral kitty houses!  Thanks to you, a lot of  feral cats will be dry and warm this winter.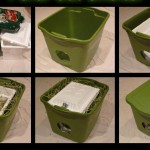 Download the instructions here.
TIPS:
Line the bottom with 1) thick layer of newspaper,  2)straw bedding or fleece blankets.
Do not use cotton; it absorbs moisture, makes cat wet and cold.
Camouflage is good, so paint the shelter to match the environment, brown and green are good colors.
Best to elevate the kitty house on 2 x 4's or pallet.
Styrofoam boxes can usually be found at medical facilities.