On Monday, May 13, SNYP Clinic veterinarian Dr. Mike Maynard presented "Getting SNYP'd in Southern Oregon: An inside look at the first high-volume, high-quality spay/neuter clinic in Southern Oregon" to a wonderful crowd in the Ashland Public Library.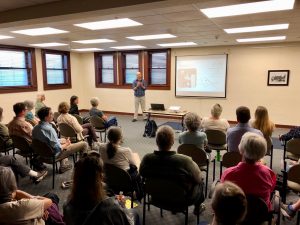 Since the clinic opened in February, Dr. Maynard has so far performed more than 701 surgeries, including the spay/neuter of 194 community cats. In this informative presentation to the community, Dr. Maynard spoke of the benefits of running the only dedicated high-quality, high-volume spay/neuter (HQHVSN) clinic in Southern Oregon, from providing humane care to community cats to offering low-income surgeries to cats and dogs who may otherwise never have the opportunity to see a veterinarian.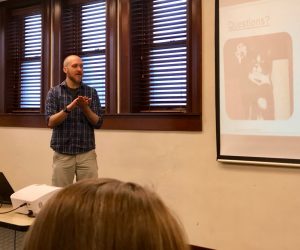 Dr. Maynard also talked about a typical day at the SNYP Clinic, from early morning intake, through the 20-30 surgeries performed each day, to recovery, to sending dogs and cats home at the end of the day. He also thanked the terrific SNYP staff and volunteers who help make it all happen.
Learn more! Click here for SNYP services, click here to donate, and click here to learn about volunteering.
And thanks to all who came out for Monday's talk and for your support and enthusiasm!