June is a big month for animal celebration: This week (June 2-8) is Pet Appreciation Week. Yesterday, June 4, was Hug Your Cat Day. And all of June is Adopt-a-Shelter-Cat Month.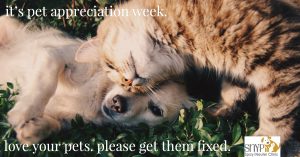 No matter what you're celebrating this June, getting your pets fixed is one of the best ways to show them love. The value of spay/neuter isn't only about avoiding overpopulation and preventing the suffering of unwanted pets. There are also medical benefits, such as decreased risk of reproductive diseases; behavioral benefits, like avoiding heat behaviors, roaming, and spraying (pets who are fixed also tend to live longer); and community benefits, with fewer stray animals, less crowded shelters, and fewer bites and diseases. Learn more here.
Please spread the word about the benefits of spaying and neutering our beloved pets — and if you're able, consider a gift to SNYP, which will help make it possible for us to continue our work with community cats and shelter partners, as well as assist those who want to get their dogs and cats fixed but can't afford to.
And meanwhile, we wish you a happy month of June!