What your donation does
You're a hero!
For SNYP 1+1 doesn't equal 2.  It equals countless litters if we don't get to them in time.  When you donate to SNYP you're not only helping one animal, you're saving countless lives the most humane way – through prevention.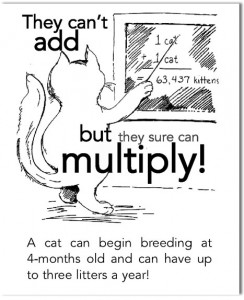 So how often do you get to say "I helped save a few hundred lives today?
… By donating today you do!
How we make every dollar count
No other animal welfare organization in southern Oregon does more with ever dollar.
92% of all SNYP funding goes directly to serve our clients. This is an outstanding statistic and one that SNYP works hard to maintain.
Here's how we do it:
Since SNYP is an information and service organization we don't need a big office or kennels to help the thousands of clients we hear from yearly. This means we can keep our overhead to a minimum and direct our funds on our programs and services.
The SNYP need-based program works on a sliding scale allowing SNYP to stretch every dollar as far as possible while still serving our clients. Our counselors are trained to stretch every dollar, allowing us to maximize our funding.
SNYP leverages our partnerships with other local animal welfare organizations. Through our networking and partnerships we can create better offerings, better promotion of our services and better response rates to our campaigns.
SNYP works diligently to maintain strong relationships with the veterinary community who support our programs. Without these dedicated veterinary clinics our programs and services would not be possible. Our solid relationships allow us to keep our subsidies as low as possible, while still supporting the veterinary clinics we partner with.
SNYP tracks everything! From how many procedures each clinic does, to how many certificates are sold at each sales venue, to how much assistance each voucher recipient received. Every transaction, every surgery at every location is tracked. Our records help us evaluate the effectiveness of our programs and provide insight into how we can refine and expand them.
So tonight when you turn out the light please thank yourself for the hundreds of lives you saved through prevention. Many thanks from SNYP!
If you haven't donated yet, please consider supporting our cause.  Donate now.