Resources
SNYP has provided these resources to help improve the quality of life for both you and your pets.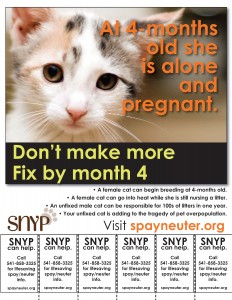 Helpful links –  Local, Regional and National spay/neuter assistance links
Posters – Help us spread the word! download our SNYP posters for your workplace, church, gym…you get the idea!
Rental resources – Resources and tips for property owners and managers
Feral Cat Shelter – Easy directions on how to build a simple cat shelter
Emergency Preparedness – Everyone should be prepared!