Barn Re-Homing Program
What is the Barn Re-Homing Program?
Feral cats can be successfully relocated or re-homed into barns and outbuildings on rural  properties such as farms, vineyards, warehouses etc.  This is a difficult and risky task and should only be undertaken if the cats are at high risk in their home territory.  The key to understanding how to successfully re-home a feral cat (or any cat!) has to do with recognizing that a cats' strongest instinct is their territory.  Like us, when taken to a strange place against their will, the strongest instinct and desire is to get back home.  To prevent them from running away, they must be confined for at least 3 – 4 weeks in a secure place they cannot escape from, and cared for.  Ideally they can see outside from their confined area and get comfortable with the sights and sounds and activities of their new turf.  We have a portable confinement enclosure to hold the cats if the new location does not have a cat-proof room or building.
Who goes to barn homes?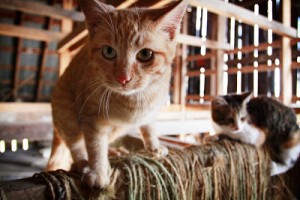 Only feral cats who are not socialized to people (cats you cannot touch or handle) should go to a barn home situation.  A combination of at least 3 adult cats from the same colony who know each other should be relocated together.  Short and dark haired kitties are the best candidates as they will be less susceptible to predators at night and less likely to get matted with burs and fox tails.  The cats are all fixed and vetted.  It is hoped that all the cats survive and stay at their new location, but success is not always 100%.  Relocation is a huge upheaval and stress for the cats.
Only cats who are in danger and at high risk should be relocated.  Their home territory is the most important thing to their survival.  They have proven they can make a living where they are, otherwise they'd be dead like so many others who did not make it.  It is a bad idea to move them because you find this spot better than that spot for them.  Their requirements are minimal and they do not care about uptown high rent locations.  They need food source and good shelter and a knowledge of the lay of the land, which they already have and worked to get.  Moving them to a strange location is their nightmare and puts them at great risk and jeopardy.
Barn home requirements:
Providing a life time of food, water, care and a safe shelter where they are protected from weather and predators are required; and veterinary care in the event of injury or illness.  Keeping an eye out for them daily, learning their habits and keeping track of them is the best way to care for them.  They may, or may not warm up to you—they all have come from different backgrounds and different temperaments.   If there are dogs on the premises, they should be kept from the cats by a fence, or be cat friendly and calm.  If there are other cats on the premises,  it may interfere with successful relocation because all cats are very territorial and want to keep 'strangers' out of their turf.
Purrfect match = ferals and rural properties.
It's a win win situation for both the cats and the people who provide barn homes.  The cats get a chance at a new life, the property owner gets organic rodent control eliminating the need for dangerous poisons, chemicals and inhumane traps.  Wineries, organic farms, family barns, warehouses etc. have had great success and joy from partnering with feral kitties to work for room and board and kindness.
What you can do:
Let us know if you would like to give a home to some feral cats in your barn or outbuilding. Call our help line at 541-858-3325 and leave your number and our Barn Cat Program Coordinator will call you back.
Read a success story:
SPOTLIGHT ON KITTY SWEET HEARTS!