SNYP results are in!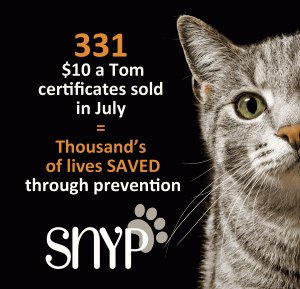 We are delighted to report that the $10 a Tom Campaign held throughout July resulted in 331 male TOM CATS being fixed!
If one male can be responsible for 100's of kittens just think how many lives have just been saved through prevention! THOUSANDS!
Many thanks to all of the veterinary offices who participated and to the Grange Co-Op and Mini-Pet Mart for selling the certificates.
Don't forget
SNYP has all sorts of year round programs for BOTH dogs and cats. Check them out